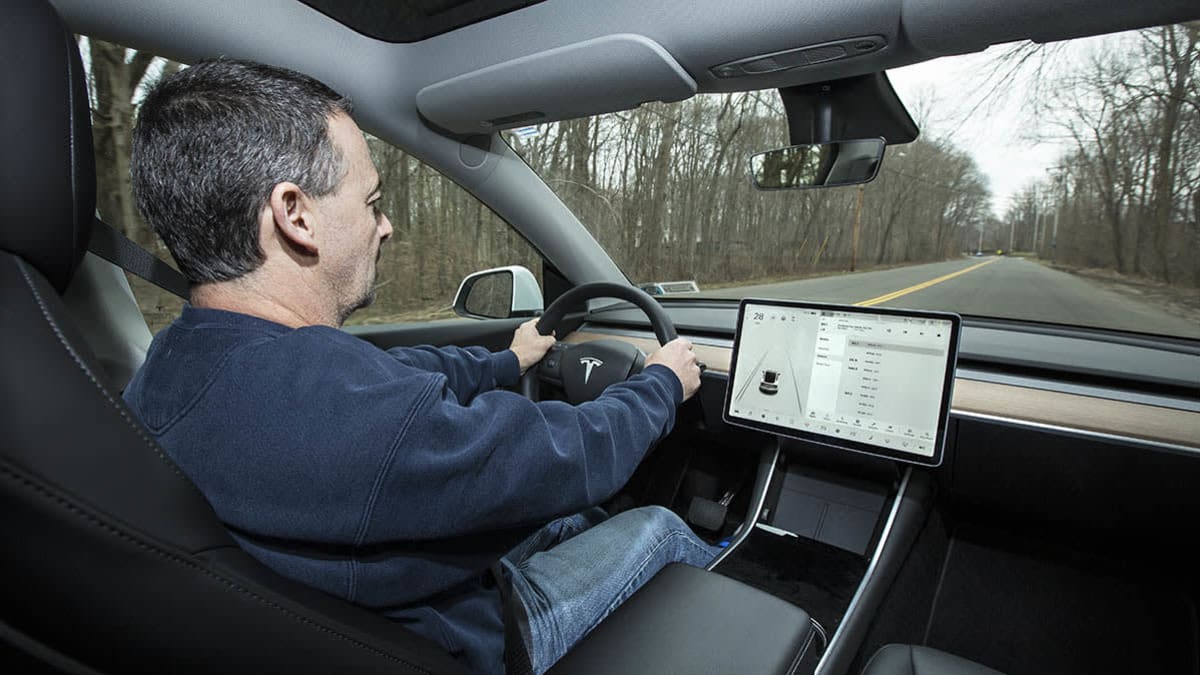 Tesla's driver-facing camera located above the rearview mirror in Model 3 and Model Y vehicles—which the automaker calls a "cabin camera"—is turned off by default. If drivers enable the cabin camera, Tesla says it will capture and share a video clip of the moments before a crash or automatic emergency braking (AEB) activation to help the automaker "develop future safety features and software enhancements," according to Tesla's website. Tesla did not respond to CR's emailed request for additional information about its in-car monitoring systems.
Tesla's approach stands in contrast to so-called closed-loop setups used by other automakers, such as BMW, Ford, GM, and Subaru, who told CR that their driver monitoring systems do not record, save, or transmit data or video. (More information about all these systems can be found below.) Instead of capturing video, these systems use infrared technology to identify a driver's eye movements or head position. John Davisson, senior counsel at the Electronic Privacy Information Center (EPIC), says such closed-loop systems do not present the same privacy concerns as a system that records or transmits data or video.
"Any time video is being recorded, it can be accessed later," Davisson says.
"There may be legal protections around who can access it and how, but there's always the possibility that insurance companies, police, regulators, and other parties in accidents will be able to obtain that data," he says. In addition to those foreseeable uses, Davisson warns that malicious actors could access recorded footage, or that Tesla could use it for purposes other than safety research.
In a series of recent tweets, Tesla CEO Elon Musk suggested that the automaker uses in-car monitoring to ban drivers from participating in tests of its new active driving assistance suite if Tesla determines that those drivers fail to pay attention to the road.
Many safety advocates—including those at CR—say automakers should deploy more advanced driver monitoring as the likelihood of driver distraction increases. These systems also can help address risky driving behavior associated with impaired and drowsy driving. Driver monitoring systems will be a part of the requirements for Europe's Euro NCAP automotive safety program as of 2023. A spokesperson for the agency said that driver monitoring systems should be used to monitor drivers in real time for safety, and should not be recording or transmitting any information.
Tesla vehicles currently determine real-time driver engagement through steering wheel inputs, which can easily be "tricked" by a small amount of pressure on the wheel, according to Kelly Funkhouser, CR's program manager for vehicle interface testing. "Just because a driver's hands are on the wheel doesn't mean their attention is on the road," she says.