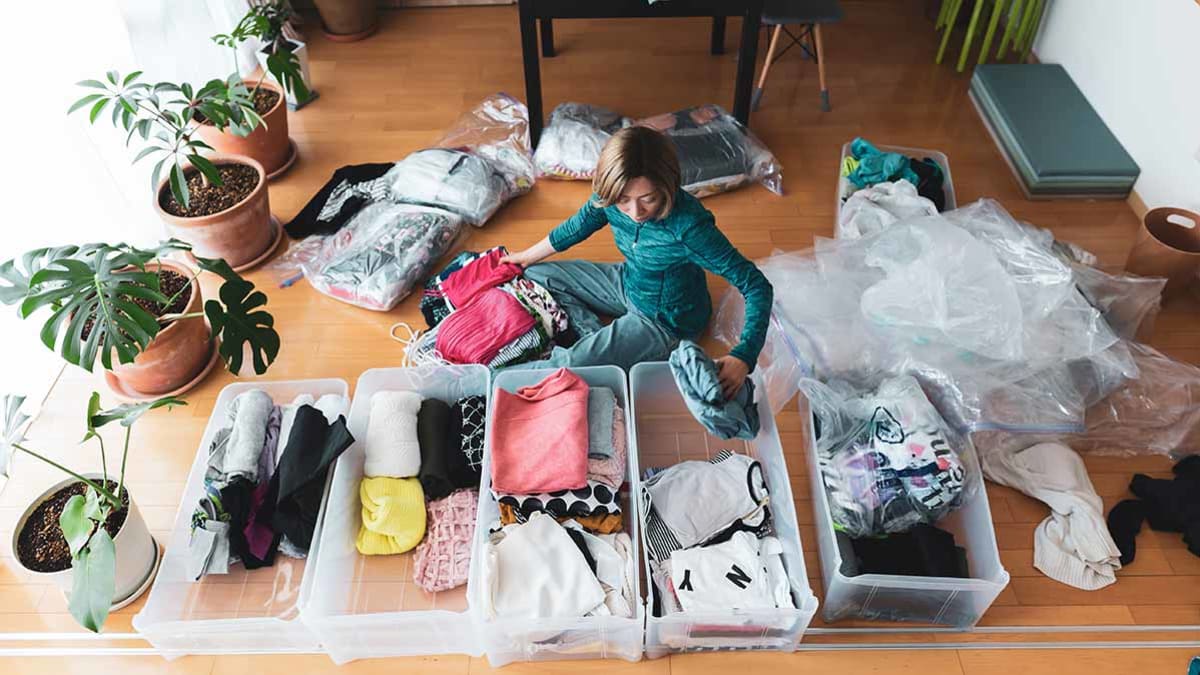 Off-season clothing: Under-the-bed storage is ideal for off-season clothing because it's possible to go months at a time without needing them. Before packing these items away, be sure to thoroughly launder them to preserve the integrity and cleanliness of the entire stack—unwashed clothing will not only spread odors from item to item but also attract critters. Toss in a couple of fresh cedar blocks as an extra precaution against moths.
To figure out what kind of container you need for the clothing you want to store under your bed, consider the space you have and how much clothing you will need to store. Lowenheim's go-to is a modular bin that's stackable and space-efficient ($17 at The Container Store). Its locking lid, which will keep your staples secure from critters, is a plus.
If you prefer to go with a more breathable alternative, which Engelbach says can help your clothes last longer, containers made from natural fibers will be your best bet. She suggests choosing between compressed felt storage bins ($128 at Open Spaces) or a zippered canvas storage bag ($28 at Lands' End).
Odds and ends: Your toolbox, batteries, a package of spare lightbulbs, or other miscellaneous items might not quite fit anywhere else and end up in a cluttered box under the bed. Think of it as the equivalent of a junk drawer—a concept Lowenheim says can be functional if the containers are shallow, enabling you to see everything in them. And a little organization within can go a long way.
If your odds and ends are items that you'll need regular access to, like gym clothes, electronics, or socks, Socci suggests using an extra-large drawer that can slide out with ease such as this solid wood storage solution ($59 at Walmart, $63 at Amazon). To keep things extra tidy, you can also bring in smaller organizational elements that can live within the drawer, like dividers or compartmentalized bins.
For items you need to keep on hand but only use periodically, such as documents or books, Engelbach recommends this rolling lidded storage bin ($24 at The Container Store; a similar one costs $25 at Wayfair), made even more convenient with its cut-out handles. You can use this as a makeshift filing cabinet that can hold it all.
But that doesn't mean you should keep it all. "If you are storing things under your bed simply because you may need them someday, or you feel guilty for letting them go, consider why you are keeping them in the first place," Socci says.