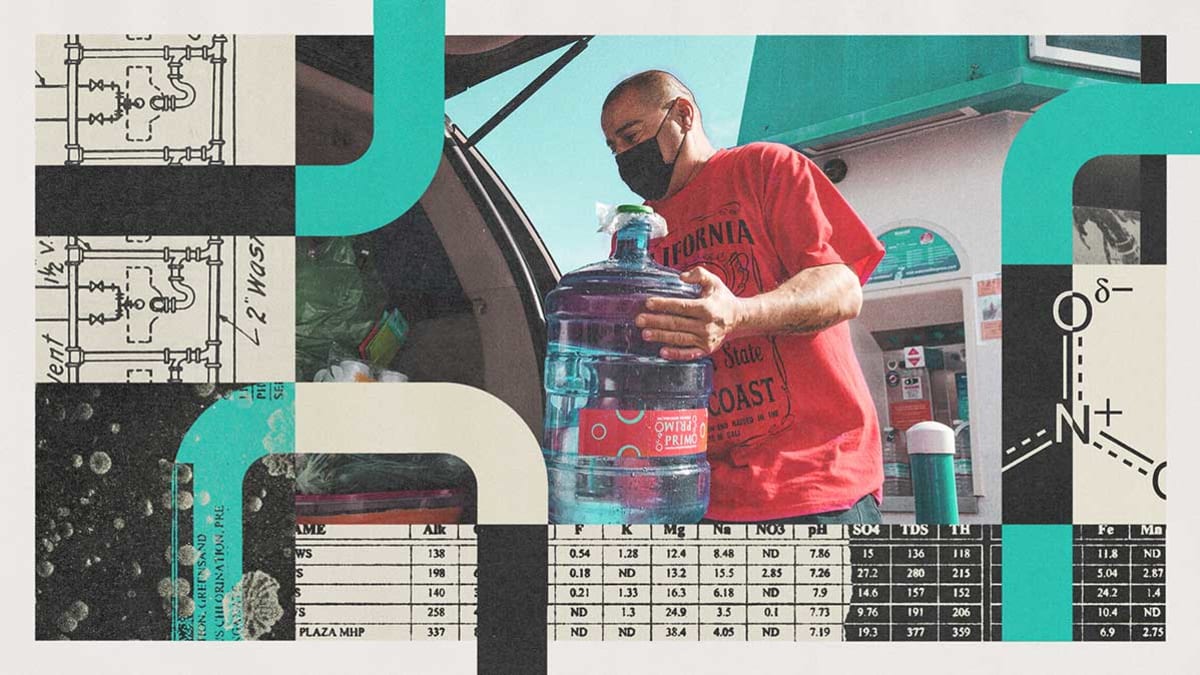 Water contamination in the U.S. is wide-reaching.
The dangerous pollutants that water systems have difficulty filtering out vary across the country, from the nitrate from farm runoff in states where agriculture is prominent, including California, to radioactive mining substances in states such as West Virginia.
Health effects are also wide-ranging. Arsenic, chlorine, and radionuclides are tied with higher incidences of cancer. Nitrate fertilizers can hinder the delivery of oxygen to red blood cells. And the weed killer atrazine is linked to hormone disruption in women, premature births, and lower IQ levels in children.
Among the communities with major drinking water challenges, the analysis showed:
Coal Mountain, W.Va., which serves around 118 people—tops the list in our analysis with its water system having the most violation points in the country: 595 points over five years. It has detected high levels of radionuclides, disinfection byproducts, arsenic, lead,  copper, nitrates, and coliform. The county's median household income is $35,460, which is about half the U.S. median household income. The community has seen a rise in mountaintop removal coal mining. The Appalachian Regional Commission—a federal-state partnership—is spending millions to upgrade the system, the local public water utility says.
Lubbock County, Texas, is home to 24 of the top 1,000 water systems with the most violation points, including those for mobile home parks, a children's sports camp, and an assisted living facility for seniors.
The Klondike Independent School District in Dawson County and Martin County, in West Texas, had 390 violation points over five years. Its roughly 270 students in pre-K through grade 12 could have been exposed to arsenic, nitrates, coliform bacteria, disinfectants and disinfection byproducts, copper, inorganic chemicals, and radionuclides. The district spans 600 square miles of oil fields and cotton and peanut farms. About half the students are Latino, superintendent Steve McLaren estimates. Klondike spent about $1 million on upgrades to meet tightened standards, including some funds from a philanthropic foundation. "We want to do the right thing, but sometimes it's difficult to do the right thing because of finances," McLaren says.
The smaller a water system is, the more likely it is to experience problems. That's often because there are fewer customers to charge for needed upgrades.
The American Water Works Association—whose members supply most of the nation's drinking water—acknowledged that small systems have fewer resources to fix problems. But it said many of their violations are for inadequate monitoring, not for contaminants.
Of the more than 140,000 public water systems in the U.S., more than 97 percent serve fewer than 10,000 people. Small systems can struggle to afford testing and treating the water, or even issuing the public violation notices that the federal government requires when contaminant levels are too high. There is no government agency dedicated to responding to chronic diseases from water contamination. The Centers for Disease Control and Prevention responds only to acute outbreaks, such as coliform bacteria.
"If no one is immediately dying, there's no rush to do analysis on substances of concern," says Carl Reeverts, a former program director at the EPA who was with the agency for 38 years. "Enforcement is incredibly low, and we don't have a strong program for bringing people in line."