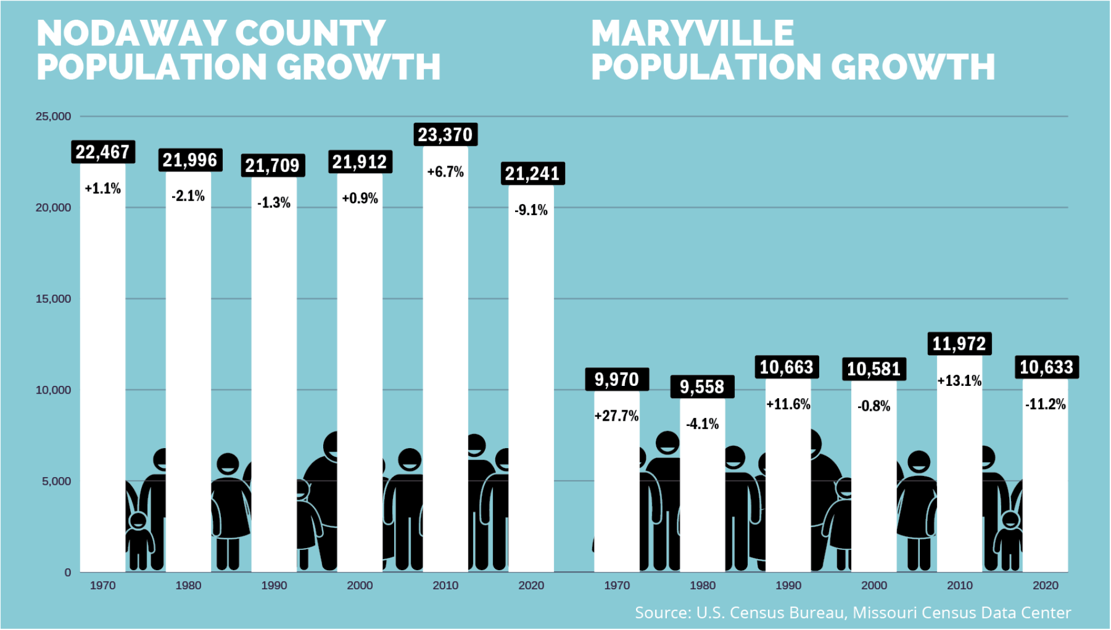 [ad_1]

Student housing
One possible reason contributing to the precipitous drop in population is a low number of residents reported living in university housing.
The 2020 Census showed 1,049 people recorded as living in "college/university student housing," far fewer than the 2,599 recorded in 2010 and the 1,888 in 2000.
While the census was being conducted, a chief concern among leaders in higher education and in college towns across the country was a potentially drastic undercount of students because of the pandemic. Like many college students across the country, those at Northwest Missouri State University were not allowed on campus on the date of the census, April 1, 2020, because of COVID-19 precautions: a week prior, the university had told students to stay home after the end of spring break.
Typically, college students are counted during a census in the place where they are attending school. Students staying in dorms are counted as part of the Census Bureau's Group Quarters Operation, which tallies residents staying in places like nursing homes, group homes and prisons in addition to university-owned housing. The Census Bureau works with administrators of those facilities to get forms in front of their residents.
On March 15, 2020, the Census Bureau released guidance directing college students who had been sent home to fill out their census forms as if they were still on campus. But by that time, many students, including those at Northwest, were already home for the duration, and it's possible that the move to remote classes hurt response rates in general and may have also resulted in some students incorrectly listing their home address instead of the one in Maryville.
However, the bureau was not unprepared for that scenario, and worked with administrators across the country to attempt to ensure an accurate student count. From July-September, a blog post on the bureau's website says, Census officials contacted colleges and universities to obtain headcounts from their housing facilities. In some cases using records already provided to universities, the bureau would make sure students weren't also double-counted by crosschecking basic information like names and addresses with other submitted surveys.
Mark Hornickel, communication manager at Northwest, said in an email that Census officials are in frequent, near-monthly contact with the university, and a Census representative was on campus in early April 2020, though students were not.
As part of the university's own census in the fall of 2020, Hornickel said the institution recorded 1,801 students living on campus — over 750 more than the U.S. Census had counted several months prior. In 2010, the university's in-house count showed 2,542 residents — very close to the Maryville-wide total of 2,599 in the 2010 U.S. Census.
Impact
Without more information yet available, it's not possible to say for sure whether college students in Maryville were significantly undercounted — even the university's own fall 2020 census showed a drop of about 800 students living on campus compared to the 2010 U.S. Census.
But even if the on-campus population was missing about 750 people, the population loss for the city of Maryville still would have been by far the largest in history. And in general, a lower population can have significant consequences for funding to a community.
"Census numbers are critical for a variety of federal and state programs, grants, etc.," said City Manager Greg McDanel in an email to The Forum.
McDanel said that the American Rescue Plan is one such example: for cities smaller than 50,000 people, funding through the act is determined by a formula that uses a city's population as part of the calculation.
Other information
Bucking a trend seen around the country was a slight decrease in the percentage of adults in both Maryville and Nodaway County. In 2010, more than 86 percent of Maryville's population was 18 or older — down to just over 83 percent last year. In Nodaway County, the decrease was even smaller, dropping from 81.8 percent to 80.1 percent.
Across the U.S., however, the population of people 18 and older grew by more than 10 percent, outpacing the growth of the nation as a whole. Overall, the percentage of the national population under 18 shrank by 1.4 percent since 2010 despite the country adding more than 7 percent to its total population.
Housing statistics included in last week's data showed Maryville added more than 300 housing units since 2010 — up to 4,868 — but filled only about 100 more of them — 4,314. That left 554 vacant housing units in the city, up from 326 in 2010.
In the county overall, the number of housing units was down over the past decade, from 9,524 in 2010 to 9,449 last year. Occupancy was also down, from 8,545 to 8,376.
Last week's redistricting data was released in a format that requires additional handling and software to extract and read, but is readable for anyone with the database program Microsoft Access and the patience to follow the step-by-step directions posted by the Census Bureau on its website. The bureau opted to release the data as soon as possible so that states could get a jump on planning for redistricting. The same data is being posted to the bureau's website in more user-friendly form through the site's regular search tools in stages and is scheduled to be completed by Sept. 30.
More detailed demographic information, like breakdowns of age, sex, economic indicators and more, is scheduled to be released periodically beginning in December through next summer.
Last week's data was the second set released by the Census Bureau from last year's survey, following April's release of national and state population statistics. Those numbers showed the country added about 22.7 million people over the last decade, growing to more than 331.4 million. Missouri also saw a population increase, from about 5.9 million to more than 6.1 million.
[ad_2]
Originally Appeared Here