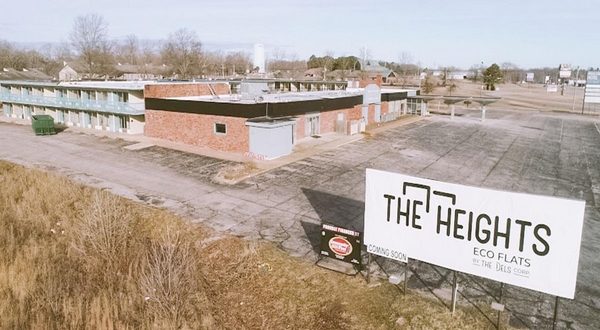 Photo: Drone shot provided to West Plains Daily Quill by Mark Bertel of Mountain Home shows the new sign and part of the former Ridge Crest Plaza complex pre-renovation.
A Twin Lakes Area man who made his mark renovating the former Town and Country Motor Inn on Main Street in Mountain Home into apartments and then built a group of tiny homes just off Arkansas Highway 5 north is expanding his footprint.
The West Plains Daily Quill reports Mark Bertel, founder and CEO of The Dels Corporation, a property development company based in Mountain Home, is about to renovate the former Ridge Crest Plaza property.
In a social media posting, Bertel says The Dels is expanding to Southern Missouri with the development of "The Heights."
The property will feature 118 studio apartments, a convention center, lounge and full-service restaurant.
The name stems from the location which once was the Holiday Inn that overlooked the city vista of West Plains.
Bertel says, "We believe affordable housing is the future and so does the city of WP. They have taken us in like their own and we are excited to work with them on this project."
He goes on to thank Care Center Ministries for helping clean up the property the past two weeks.
The Dels will completely remodel the property, giving it a new, modern style, while also keeping some of the retro aesthetics from the old motel, such as the palm tree decor by the pool, to maintain kitschy flair, says Bertel.
The vintage decor also alludes to the motel's history built in the 1960s. New communal areas are planned, such as a barbecue area and a rooftop patio on one of the buildings.
Bertel says the apartments will be designed to attract college students, young professionals, medical professionals and seniors.
"We want to make this feel like its own community," Bertel says. "We want to make a difference by providing quality, affordable housing."
He said each furnished apartment will include a bathroom, work areas and a kitchenette with electric European-design stovetop ovens and custom Amish cabinets from Salem, Missouri.
Bertel says many of the rooms were in rough shape when the demolition process began, and the Care Center workers did a "terrific job" gutting them out and preparing for the next phase of the renovation process.
He adds the renovations will be done building by building, and he plans to have the first 32 studio apartments ready for tenants by May 1. It is his hope all 118 apartments will be open by fall.
Rent for the apartments will run between $550 and $650 per month with a six-month lease to begin with, he says, adding that rent will include water, electric, trash, pool access, fiber internet with Wi-Fi and security.
For more information on The Heights or The Dels, visit www.thedelscorp.com or call 870-232-0010.
WebReadyTM Powered by WireReady® NSI