All Paul Eaton wanted was a shop building on his Wayne County property so he could better store his vehicles. If he were still a younger man, Eaton says he would have taken on the work himself, but now in his 70s, disabled and still carrying combat wounds from Vietnam, he decided to find a contractor.
Eaton hired a Licking man named Carlton Curtis, 46, for the job. On April 30, Eaton gave Curtis a $6,000 deposit to ensure work could begin the following week. Now it's four months later, and no work has started. In fact, Eaton says he hasn't so much as even gotten a phone call from Curtis.
What started this spring as a home improvement project now has Eaton involved in a Wayne County prosecution. Moreover, that case is one of six felonies filed against Curtis this year alone across Missouri. The parties concerned all have one common grievance: They say Curtis never followed through on his promises and never paid them back a refund. They have been speaking out to The Salem News – owned by Salem Publishing Company, also publisher of the Phelps County Focus – and The Licking News to raise awareness and warn other potential victims of similar scams.
Paul Eaton says Facebook Marketplace connected him to Curtis and what looked like a Licking-based company calling itself Curtis Steel Buildings. During a meeting in Piedmont, Eaton remembers Curtis showed him pictures of what was claimed to be Curtis Steel Buildings' last successful project. Eaton said Curtis further assured constructing a 30 foot X 45 foot steel structure would be no problem. All that was needed to start the next week was a $6,000 deposit. Although Eaton says something did seem off, the agreement he and Curtis both signed seemed to include all the necessary guarantees.
"He told me that's the way people do it," Eaton said of the arrangement.
A week after April 30, no work had begun at Eaton's property. By the end of May, Curtis had not even made an appearance nor answered any of Eaton's calls or text messages.
"He knew what he was doing, he had no intention of ever constructing that building," Eaton said.
It was much the same experience for Independence's Annemarie Newby. She and her husband, Dennis, wanted a new metal garage for their lake house in Camden County. After finding Curtis on Facebook marketplace, they met him at their Climax Springs home and paid him a $2,450 down payment.
"Talking to him on the phone he seemed like a legit guy," Newby said. "March 21st is when he came out to our property in Camden County. We sat down, and he brought his receipt book, a color chart and some framing. He was all about himself, how he'd been in business for so many years and stuff like that."
After that initial meeting, Newby says Curtis seemed to be eager to start and even put down some framing in their yard. In preparation of the work, Newby said she and her husband tore down their old shed and awkwardly stored the items inside under their house and on their boat.
"He said, 'You're third on my list,'" Newby remembers Curtis assuring.
However, over the following weeks Newby says Curtis offered only evasion.
"All he could do is come up with excuses and no solutions," Newby said. "Every time he came up with an excuse, he would send me pictures of some building he said he was working on, 27 pictures he would send me. I am like, 'That's great if you're actually building those, but like everyone else, I want what I paid for.'"
Now months later, Newby still has items in temporary storage at extra personal cost.
"He just left the framing in our yard," Newby said. "He unloaded it and it's still sitting there. We've had to move it like three times now."
Gary Chapman also found Curtis through Facebook Marketplace and gave him a $4,400 down payment Feb. 1 to construct a metal building on his property in Horseshoe Bend, Arkansas.
"He said there were three small jobs ahead of me, so it would be three to four weeks before he could get started," Chapman remembers. "By the third weekend, I called him to see where we were at, and that is when the excuses started."
Chapman recalls he heard explanations ranging from weather to other obligations and COVID-19 as reasons for the delay. When Chapman eventually asked for a refund, he says he then heard only silence. It was around that same time Chapman decided he'd take his grievance back to where it started on Facebook.
"I saw he posted some new ads on Facebook and I thought if he didn't have time to get to my job, how can he advertise for even more work," Chapman said. "I went on there and made the comment he needed to contact me about the building he never built. Soon after that, people started contacting me saying they were scammed, too."
Plato's Don Payne was among those who saw Chapman's comment on Facebook. In his case, Payne paid Curtis $2,000 for a metal building that was never constructed. In response, Payne created a private Facebook group called "Scam Alert! Carlton Curtis" and invited others to join.
"I reached out to a few people to get their story and created the group so we could discuss our issues and find legal solutions," Payne said. "After creating the group, we elected to contact other potential victims that were requesting his services through Facebook to bring awareness."
The private Facebook group now has more than a dozen members who all share similar stories of Curtis collecting a deposit or down payment, and then never following through on his promises.
"I don't think any one of us are going to get our money back," Chapman said. "Our mission has been preventing him from doing this to anyone else."
Toward that goal, members of the group have been monitoring Curtis's online activities and posting comments to warn others. They have also documented Curtis has advertised under several different business names. They include variations of C&L All-Steel Buildings, C&L Pole Barns, Carl Curtis Buildings and most recently, Piney River Buildings.
The Texas County Collector/Treasurer's Office reported to Salem Publishing that Curtis does not have a personal business license. Queries by Salem Publishing found none of Curtis's purported businesses have been registered with the Missouri Secretary of State's Office.
Calls to Curtis's posted business numbers were not answered. A message to the Piney Rivers Buildings Facebook page also did not receive a response.
"I think Missouri needs an enforcement arm to stop people like Carlton. I know he was arrested before, and shortly after release, he was running ads again," Payne said. "It is a shame so many people were taken advantage of by Carlton Curtis. Hopefully, because of our group's actions, his illegal enterprise will be done."
Chapman says beyond losing a few thousand dollars, what's been most disturbing about his experience is Curtis's deceit.
"He used a lot of religious overtones to make you comfortable," Chapman said. "It was all, 'God bless you' to make you think he was trustworthy."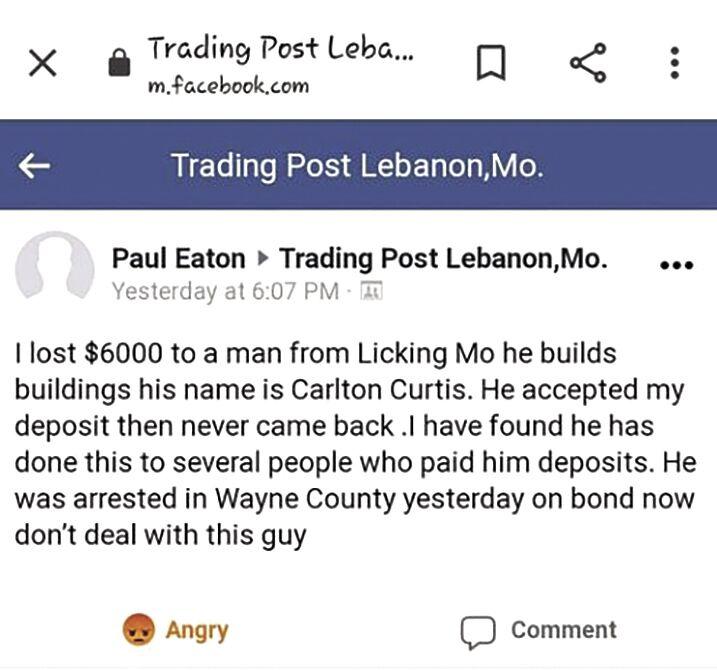 Paul Eaton's allegations against Curtis are corroborated in Wayne County court documents filed as part of a felony prosecution charging Curtis with financial exploitation of an elder or disabled person. That felony is one of six filed against Curtis this year. Cole, Dent, Oregon, Shannon and Texas counties all have charged Curtis with felony counts of stealing $750 or more.
Probable cause statements obtained by Salem Publishing Company in those cases allege a similar pattern. Curtis is described as collecting an upfront payment or deposit to construct a building and then failing to complete any work or provide a refund when asked. In the charging documents, Curtis is described as not returning messages and phone calls. When reached, he is quoted as claiming rainy weather or prior work commitments were preventing him from starting construction.
This year, Curtis has also been ordered to pay restitution in two small claims court decisions. A Camden County judgment in favor of Dennis and Annemarie Newby ordered Curtis to pay $2,703. A separate Pulaski County ruling ordered Curtis to pay $4,153.50 to a Waynesville plaintiff.
There is a Sept. 8 active Phelps County warrant issued for Curtis's arrest, charging him with failure to appear in court on misdemeanor charges of driving while revoked and exceeding the posted speed limit by 11 to 15 miles per hour. Other court records filed previous to 2020 further reveal other civil judgements against Curtis and that he's faced past offenses ranging from failing to pay child support to driving while intoxicated.
As for his claim, Gary Chapman says he is currently considering his own legal action.
Curtis was arrested Aug. 28 in Dent County and read his charges in circuit court before being transferred to Cole County Sept. 1. The Cole County Jail reported to Salem Publishing on Monday that Curtis was released from custody Sept. 14 after posting a $25,000 bond.
Online docket entries on CaseNet report Curtis is next due in court Wednesday in Oregon County for an initial appearance. A hearing for his Dent County case is scheduled Thursday. The Cole County case against Curtis is due for a counsel status hearing Oct. 6. A preliminary hearing in his Texas County case is currently scheduled for Oct. 13. Curtis is also due for a counsel status hearing Oct. 15 in Wayne County court. He is yet to make a court appearance concerning his Shannon County charge.
A letter shared with Salem Publishing written by the Missouri Attorney General's Office reports the allegations against Curtis may warrant further state-level investigation. The letter, sent to one of Curtis's former customers, states the matter has been referred to the Attorney General's enforcement unit for further review.
Despite differences in where they live and how much they paid Curtis, all persons interviewed agree Curtis should face consequences.
"It really makes me mad to think about, and it makes me want to do something I shouldn't want to," Eaton said. "It seems like no one is in a rush to prosecute him. I know he's been able to bond out before, and then go back to scamming. It's frustrating because it's our money he's used to get his bond."
Newby says like others, she has given up any hope of ever receiving restitution.
"It's just unfortunate that he's gotten away with it for so long," she said. "He needs to serve time in prison. He needs to think about what he's done to all of these people."
Chapman agrees nothing less than incarceration is warranted.
"I doubt we'll get our money back, so the only recourse really is for him to be in jail for a while," he said. "The court's ultimate goal should be to prevent him from ever having the opportunity to take advantage of people again."
For now, litigation against Curtis will continue into the foreseeable future, and members of the Scam Alert! Facebook page will continue to raise awareness. In departing, one offers online shoppers this hard-learned advice.
"In hindsight, I wish I would have checked him out on CaseNet first," Newby concludes. "I would recommend to go with a company over an individual, and if you go with an individual, be sure to check them out."
Consumers who believe they've been scammed can call the Missouri Attorney General's Consumer Protection Hotline at 1-800-392-8222 or online at ago.mo.gov.
The Missouri Attorney General Office recommends the following tips consumers: 
3. Get your price and scope of work in writing.  This should include start and end dates
4. Do not pay for the entire project up front.  Try to pay for the materials directly.  Otherwise, pay the contractor for portions of job as it is completed.
5. Do not pay cash. Paying with credit cards or checks will give a paper trail to verify your payments.  If you do pay by cash, make sure you get a receipt.  You should get a receipt for all payments.
6. Check with the Missouri Attorney General's Consumer Protection Unit at 800-392-8222 or the Better Business Bureau for any complaints.
7. Verify any necessary licenses and state registrations.
8. Proofread your contract and know what you are signing