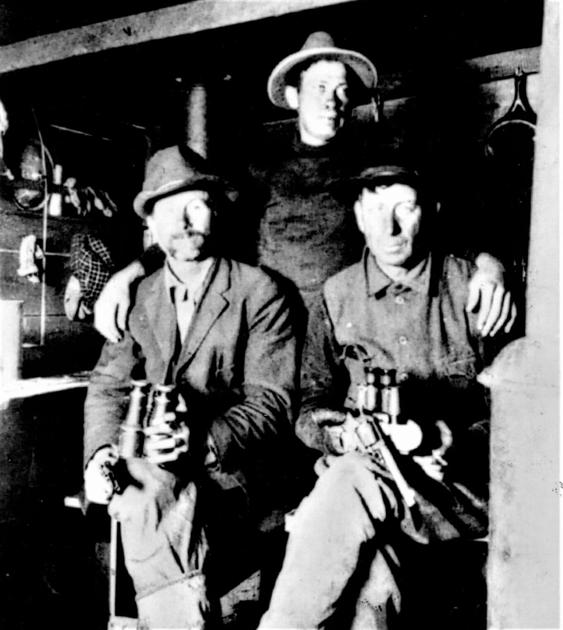 William "Buffalo" George is again the central figure in a horse stealing case, if one can believe such evidence as is now in the hands of the authorities. "Buffalo" is at this time a paroled prisoner from the penitentiary at Sioux Falls, where he has during the past years served several terms for stock rustling. During the latter part of February about 90 head of horses were taken from near Gann Valley in Buffalo County, brought through Hughes and Stanley Counties, and then distributed to points in Hughes and Stanley counties and on the Brule Reservation. In early March, George Goodwin and Jack Stevenson were arrested, plead guilty to grand larceny, and were sentenced at Gann Valley to the pen at Sioux Falls. Silas Baldwin of Stanley County is now in jail and Sheriff Samis and the state officers have warrants and are looking for "Buffalo" and Elmer Zigler. Zigler is also an old offender, though during the past few years had apparently been walking in the straight and narrow path. Warrants have also been issued for eight or nine other people besides those mentioned. Baldwin has waived examination and has been bound over to the circuit court. Some of the stolen horses have been recovered, and the authorities anticipate an early windup of the entire affair.
Race drivers competing on the new track to be built on the Hughes County Fairgrounds east of Pierre will be gunning for $500 in Standard Oil Point fund money and Standard Super Premium has been designated "official gasoline," it was noted today by South Dakota Motorsports Association President Tony Dean and Pierre Standard Oil Agent Bob Friman. Friman said the point fund money will be awarded to top drivers on the basis of point standings and added only drivers using the official product will be eligible for the additional prize money posted by Standard. Dean said Standard Oil will install a tank and pump in the pit area of the new facility, so the fuel is available to competitors. He added the arrangement was made with Friman, Standard's Consumer and Re-Seller Territory Managers Harold Farrand and Terry Lund and participating dealers Howard Kusler (Kusler's Standard Service) and John Ziesler (Johnny's Standard Service). Friman said, "We are excited about the prospects of participating in South Dakota's biggest summertime spectator sport and are confident it will prove to be a valuable testing ground for our products." He noted construction of the new sports arena facility "is scheduled to start within the next ten days, weather permitting," and that he hopes the new facility will be completed in time for the scheduled season opener on Friday, May 9.
Shoot them while you still can! People are encouraged to shoot pictures of Canada geese for a wildlife photography contest during the 1996 Goosefest celebration. Although the deadline to enter the photography contest isn't until September 1, people are encouraged to snap photographs of geese while they are still in the area this spring. Any type of wildlife or hunting scene may be submitted in the photography contest. Prizes will be awarded in three age categories. Copies of the Goosefest wildlife photography contest rules are available from the Pierre Area Chamber of Commerce. The Goosefest celebration is slated for September 27-28 in Steamboat Park.
The South Dakota Executive Intern Program will once again have several interns working in various departments and agencies of state government this summer. The internships will run from May through August, and the majority will be located in Pierre. Many of the interns who will be working in Pierre will need to rent apartments or sleeping rooms for the summer. A housing list will be compiled and distributed to all Pierre interns.