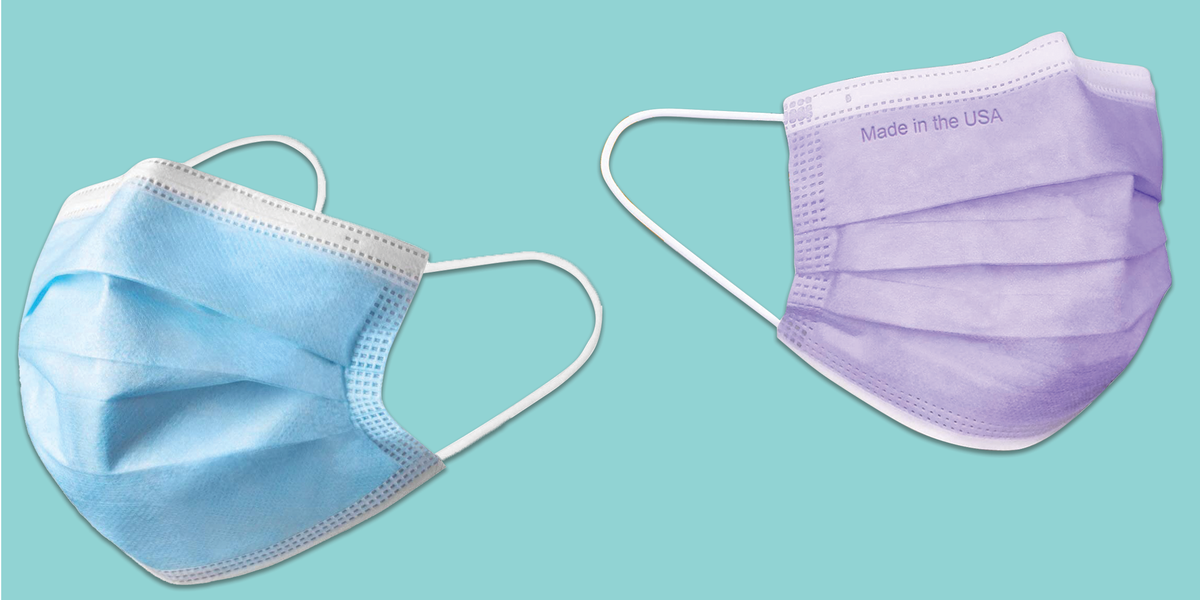 Earlier this winter, officials at the Centers for Disease Control and Prevention updated their COVID-19 mask guidance to include a new recommendation for disposable medical masks and double masking specifically. And while COVID-19 vaccines are well underway for many across the nation, since current CDC guidelines say that masks will still be necessary in public spaces for the foreseeable future, people should think about upgrading their mask collection for maximized protection.
The recommendation for double masks is really based on establishing a close fit to your face — something that a disposable surgical mask can do all on its own if you manipulate its ear loops to create a firm seal against your cheeks. "Fit is important, and there are some hacks to make these masks fit better, like adding a new parallel wire to the nose band," says Steven Rogak, PhD, a mechanical engineering professor at the University of British Columbia who has conducted field tests on face masks' fabrics efficacy. "The ear loops can also be knotted close to the mask attachment. These things don't universally work, but it's crucial for every individual to find a way to make masks fit better."
Why is this fit so important? New research published by the CDC suggests that a tight-fitting disposable medical mask (also sometimes referred to as surgical masks!) can dramatically reduce the spread of COVID-19 via airborne particles and infectious respiratory droplets. It also provides more protection: The study's lab results suggest that tight-fitting masks could lower transmission risks by up to 96% if all parties wore them. For medical masks in particular, though, data suggests a plain disposable option alone provided more protection over cloth-based sewn masks — and when knotted for a tight fit, efficacy in reducing spread increased an additional 25%.
What makes a good disposable mask?
To be clear, double-masking or a manipulated disposable medical mask isn't as protective against COVID-19 transmission as N95 respirators — but those are being reserved for healthcare personnel in clinical settings. If you're looking for a disposable face mask that's been tested and made to provide you similar protection as outlined in CDC-sponsored research, you'll need to look for labeling that shows it conforms to certain criteria, explains Lexie Sachs, Textiles Director at the Good Housekeeping Institute.
Those guidelines come from ASTM, a group of industry professionals that develop testing standards for a myriad of products (including face masks as a whole!). The criteria for disposable masks are outlined in ASTM F2100-20, a set of standards that guide manufacturers in their design, creating top-notch medical masks as it relates to construction and fit. Sachs explains that ASTM standards dictate a need for a filtration efficiency test as well as a test for protection against any fluids in a medical setting. Manufacturers submit disposable medical masks to labs that follow ASTM protocol for testing, and based on the results brands can use one of three levels of certification; levels one through three, indicating how rigorously it was tested (3 is the most protective!).
In addition, the standards focus on:
How well the mask can filter bacteria for the wearer
How well the mask can filter or trap sub-micron particles
How breathable they are, or examining differential pressure as you breathe
How resistant the mask is when it comes to liquid, or in this case, tests involving synthetic blood
How flammable the mask is
In short, finding a protective medical mask should always start with looking for an ASTM stamp of approval. Sachs says you should look for language from the retailer that says "Meets ASTM F2100" on any mask page you come across. Manufacturers should also clearly state which level of certification it has, with Level 3 being the most protective. While the standard isn't required for medical face masks to be sold, it's the easiest way for shoppers to know which ones have actually been tested independently.
Below, we're sharing disposable medical masks that are labeled to meet ASTM standards and have earned top marks from shoppers. These masks come equipped with ear loops that can be manipulated to form a knot per CDC directions, which can help keep fit as close to your face as possible. Plus, they make for great options if you're interested in inserting a filtering layer beneath your favorite cloth-based face masks. These are the best 7 disposable face masks to shop now:
1
Best Disposable Medical Face Mask
3ply Disposable Face Masks
Hygenix's mask construction allows for a standard fit across the board, allowing you to knot ear loops if necessary — or expand the folds of the mask to fit a larger face. Because of their near-flawless design, these masks can be worn effectively on their own or beneath a cloth-based mask of your choice. While bulk options aren't available, these 50 packs can be useful for smaller offices or spaces where individuals will need to mask up on a regular basis.
ASTM Level 3 classification
Adjustable front for best fit
2
Best Bulk Disposable Mask
4-Layer Face Masks
WISCONSIN MEDICAL SUPPLIES
amazon.com
$23.99
Despite being designed with 4 layers in its construction, almost all of the top reviews left by shoppers mention how breathable this face mask is. The price point makes these a great option for any setting where people are coming and going frequently, from businesses to offices and beyond. These masks can be worn beneath another cloth-based option or on their own entirely. "The ear loops are very securely bonded to the mask, and there's no chemical smell," one review shares.
Can be purchased in bulk packs up to 500 pieces
ASTM Level 2 classification
3
Best Disposable Surgical Style Mask
Pleated Face Mask, Blue, Tie-Back
Defender Safety
amazon.com
Surgical masks are technically designed to be tied around your crown, but these masks can be tied anywhere along the nape of your neck to ensure a tight fit. The added bonus of a surgical-style mask is that it relieves the pressure you may feel due to ear loops, especially if you're in a space where you need to wear masks all day. The manufacturer places 10 masks each into three separate sealed packs for ease of use.
Ties can be adjusted for secure, custom fit
ASTM Level 3 classification
May be uncomfortable to wear with an additional cloth mask
4
Best Styled Disposable Face Mask
ASTM Level 3 Face Mask (Box of 50)
Manufactured in North Carolina, these 3-ply face masks have been designed to satisfy customer feedback while maintaining ASTM classification, according to the manufacturer. You can see the masks' classification results by scanning a QR code on the box, as well. The 50-pack comes sealed in a reusable bag, which may prove useful for those who are outside and need to swap out wet masks throughout the day. They're made in a few different colors, including this light lilac shade, for those who are looking for a bit of flare when masking up.
ASTM Level 3 classification
5
Best Soft Disposable Face Masks
Pink Surgical Masks (Box of 50)
Made by manufacturers that design PPE for dental professionals, these vibrant disposable masks are designed to feel as soft and comfortable as possible. The mask is designed to fit comprehensively against the top of your nose and beneath your chin. It's equipped with a nose clip to keep the mask secure against your face.
ASTM Level 1 classification
Good option for double masking
May require extra folds or tied loops if worn alone
6
Best Disposable Mask for Kids
Procedural Mask (Box of 50)
Vaxxen Labs
amazon.com
$24.95
It's tough to find a disposable mask made for children exclusively; this competing option may or may not be ASTM certified. But Vaxxen Labs' makes their disposable masks in various sizes for a true fit. The small nature of this mask, per reviewers, makes it a better fit for school-aged children and teens, especially.
ASTM Level 3 classification
May be too tight for those with larger faces r
7
Best Disposable Masks for Larger Faces and Heads
Disposable Medical Face Masks (50-Pack)
Saris and Things
amazon.com
$24.99
If you have a larger head or face, this disposable medical mask may be best for you. Shoppers indicate that the 4-ply mask front is larger than other models and the masks' loops are generous to avoid ear fatigue. There's a moldable plastic clip that can be secured above the bridge of your nose, which can anchor a cloth-based top mask if you chose to wear two.
Good option for double masking
ASTM Level 3 classification
May require additional folds for proper fit if worn alone
This content is created and maintained by a third party, and imported onto this page to help users provide their email addresses. You may be able to find more information about this and similar content at piano.io