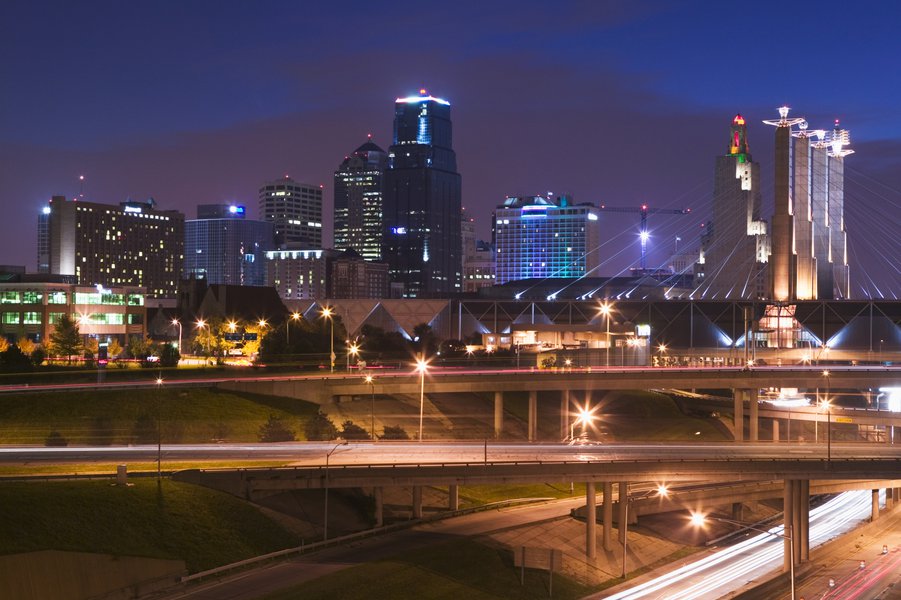 Anchor institutions
Kansas City might be known as the Barbecue Capital, but there are far more economic contributors to the city's continued success. The lower cost of living, decreased construction cost, and business-friendly legislation give companies an open opportunity to diversify in Kansas City. The Missouri portion accounts for 56% of the metro area workforce.
Technology. Kansas City is home to plenty of notable technology companies, including Cerner Corporation (NASDAQ: CERN), T-Mobile US (NASDAQ: TMUS), and Garmin (NASDAQ: GRMN). These firms have offices in North Kansas City or the Overland Park, Kansas, area.
Hospitals/healthcare. Kansas City houses many renowned hospitals, including Children's Mercy, The University of Kansas Hospital, Saint Luke's, Truman Medical Center, and North Kansas City Hospital. Children's Mercy, a comprehensive pediatric medical center, employs over 8,000 residents in the Kansas City metro area.
Tourism/hospitality. More than 25 million visitors come to Kansas City every year, with one in every 20 persons employed in Kansas City metro working directly or indirectly in tourism. Two of the most prominent attractions are America's official World War I Museum and Memorial; the other is the Negro Leagues Baseball Museum.
Financial services. Kansas City possesses several financial institutions. The Federal Reserve Bank of Kansas City covers the 10th District of the Federal Reserve, including Colorado, Kansas, Nebraska, Oklahoma, Wyoming, and portions of western Missouri and northern New Mexico. UMB Financial (NASDAQ: UMBF), Commerce Bancshares (NASDAQ: CBSH), and H&R Block (NYSE: HRB) are all headquartered in Kansas City.
Schools of note
Kansas City is home to several public and private colleges. With each increasing enrollment every year, student housing presents an opportunity for real estate investors.
University of Missouri – Kansas City
The University of Missouri – Kansas City, offering undergraduate, graduate, professional, and doctoral degrees, is located in Kansas City's heart on Volker Boulevard. Over 17,000 students were enrolled as of fall 2020.
The University of Kansas Medical Center
A campus of the University of Kansas, located in Kansas City, Kansas, offers several undergraduate and graduate programs from the KU School of Health Professions, School of Nursing, and School of Medicine. Over 3,600 students enrolled as of fall 2020.
Metropolitan Community College
With five sprawling campuses in Kansas City, Independence, and Lee's Summit, Metropolitan Community College is the oldest public college in greater Kansas City. The campuses support dual enrollment, vocational and associate degree programs, and continuing education throughout the city. Its fall enrollment of 2020 totaled 13,986 students.
Rockhurst University
Rockhurst is a private Jesuit university located on 55 acres in Kansas City's cultural district, a short distance from Country Court Plaza, a favorite dining and shopping spot. Rockhurst University has increased its headcount despite the COVID-19 pandemic, with the student population growing by 23.6%, partially due to Saint Luke's College of Health Sciences becoming part of Rockhurst in 2020.
Neighborhoods of note
With its diverse range of neighborhoods, Kansas City has a significant degree of real estate opportunities. Investors have a myriad of options, whether they're interested in new home builds, neighborhood revitalization in single and multi-family housing, or other areas of investment.
Wendell Phillips
The Wendell Philips neighborhood is filled with historical landmarks — the American Jazz Museum, Negro Leagues Baseball Museum, Black Archives, and Mutual Musicians Foundation. The district is seeing new life as the site of the Urban Neighborhood Initiative's Purpose Built Community. Residents are designing mixed-income housing, as Wendell Philips promises to be a rich mix of history for the future.
Prairie Village
Though located on the Kansas side, Prairie Village is considered part of the Kansas City Metropolitan Area. It has quick access to Country Club Plaza, major sports stadiums, and the Kansas City Zoo. There's also relatively short access to the University of Missouri – Kansas City and the University of Kansas Edwards Campus. Median home prices are up 12.3% over the past year, with a median home value of $369,857.
Leawood
Home values in Leawood have increased 9.1% over the past year, and it's considered a low-crime-rate area. The City's land area is approximately 75% developed, and growth is expected to continue in the future. Leawood has been fortunate to consistently remain below the national and state averages for unemployment rates throughout the years.
The Millionacres bottom line
Investing in the Kansas City residential area presents many opportunities. Population growth is steadily increasing, jobs are returning to the area, and the pandemic has provided a significant but actively recovering dent in Kansas City's infrastructure. Pandemic-related challenges aside, people will return to the office again, the vibrant nightlife will operate at a total capacity, and the continued strong demand for rentals will firmly give Kansas City an edge for prospective investors.
Kansas City is steeped in a deep history of strength and perseverance as a backbone market in the United States. In the wake of the pandemic, Kansas City's key industries are returning and are on pace to show resurgence, opening up the road to recovery and positively affecting the local economy.