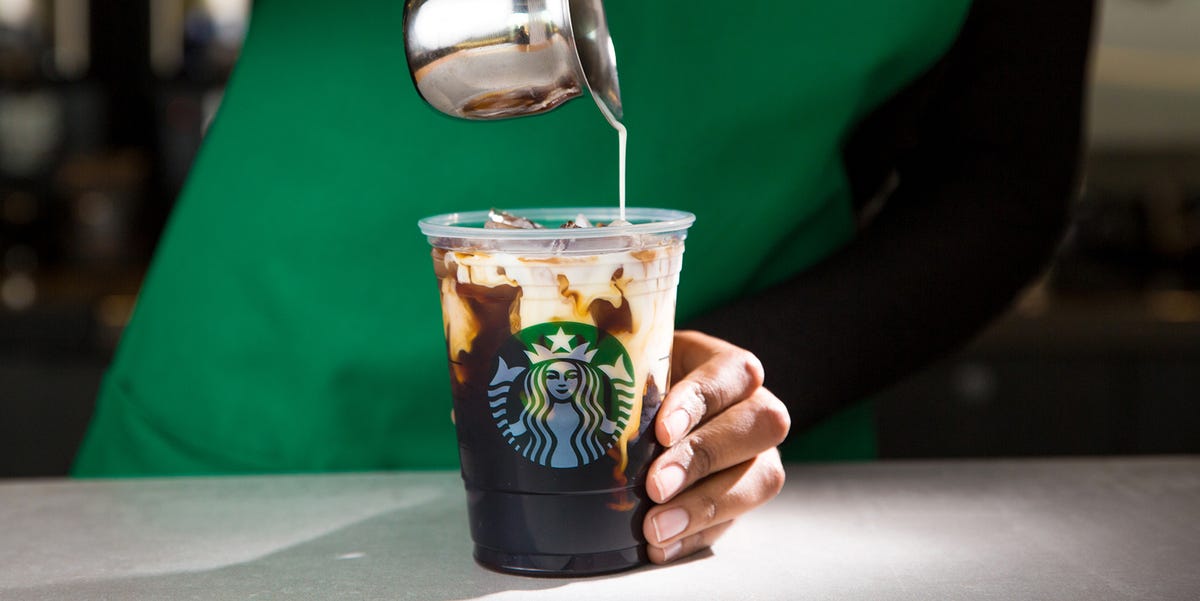 Keep these five rules in mind when asking for your favorite Starbucks drink – chances are, you'll dash sugar, fat and calorie counts instantly.
Ask for drizzles! If you're thinking of ordering a drink made with a flavored syrup, Sassos says most pumps work out to be around 5g of sugar, and grande-sized beverages typically come loaded with 4 pumps as standard. You can work to drastically lower sugar counts by swapping to a mocha or caramel drizzle in the syrup's place, which will work to lower more than half the sugar content of your drink, if not more (depending on your choice of milk).
Skip whipped cream. And consider a layer of cold foam instead. Whipped cream can add upwards of 110 calories steeped in saturated fat to your beverage, and it often doesn't boost flavors. A layer of unflavored cold foam, however, is made from nonfat milk sans any additional sweetener. You can also ask for a foam made from any alt milk on the menu, including the newly added Oatly oatmilk. It might be exactly what your iced coffee is missing.
Order half the syrup, and make it sugar-free. "Artificial sweeteners tend to be much sweeter than regular sweeteners, meaning a little goes a long way," Sassos says. Challenge yourself to do at least half the amount of flavoring — from a standard 4 to just 2 pumps — and pick an option that's sugarless. Mainstays include vanilla, skinny mocha sauce, and cinnamon dolce sugar-free syrup, in addition to seasonal offerings that you can ask your barista about. Be sure to enforce this with venti-sized drinks, where added sugar due to syrup and creams or milks can become exorbitant, Sassos says. Eventually, you may be able to train your taste buds down to just a single pump of flavoring, enjoying your coffee's natural flavor profile even more.
Ask for almond milk or skim milk. There are a few non-dairy options available to you at Starbucks — oat milk is the newest addition to the chain's lineup and blends well into vegan drinks, but it can contain more sugar than almond milk, Sassos explains. If you're looking for a full dairy option, skim milk is your best bet to reduce your drink's sat fat content.
When in doubt, go 'light.' It's the under-the-radar way to order any drink on the menu with sugar-free syrup in its place, nonfat milk, and free of any added whip cream. This is crucial if you enjoy blended coffee drinks, especially frappucinos, as this can reduce sugar counts drastically where multiple flavors are concerned.
*Additional reporting by Jaclyn London, MS, RD, CDN.