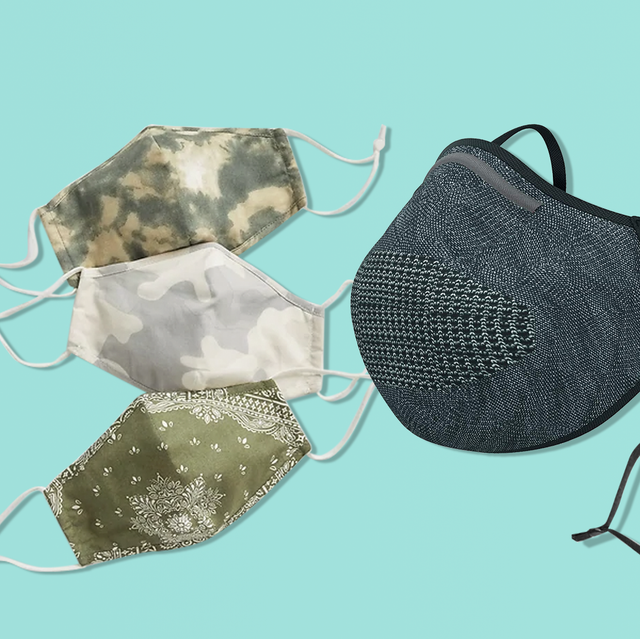 amazon, gap, slip
If you wear glasses, there's a really good chance you developed a new habit in 2020 — exasperatedly ripping them off to wipe them clear while wearing a mask. After face masks became mostly mandatory in public spaces last spring, people have invented a few clever ways to stop glasses from fogging up due to breath condensation. It's easy for warm breath to escape through the top of a mask, percolating around the lenses of glasses just an inch or two away on your face; it results in condensation, or fog, and can be quite annoying if it happens consistently throughout the day.
There are a few ways that people have been dealing with foggy glasses, one of which rocketed to fame via sites like YouTube — applying shaving cream, among others. The trend may have started after someone stumbled upon a 2011 white paper out of the United Kingdom that found washing glasses with soapy water (without rinsing or drying clean!) helped to prevent moist lenses afterward. The chemicals in soap — and shaving cream or even toothpaste — may work as a surface agent (or surfactant), or a thin shield between condensation and your lenses. The treatment, along with bringing masks out with you in public safely (in a carrying case, for example!), might help keep condensation off your glasses.
But this solution doesn't last forever, and nearly all of the YouTubers and Reddit users who swear by it admit they've been having to reapply these treatments routinely. Short of switching to contact lenses altogether, a long-term solution might be found if you take a second look at the kind of face mask you are wearing.
Which kind of face masks are best for those who wear glasses?
As we continue to wear face masks into the winter season, the issue of foggy glasses has never been more apparent; cold weather only makes the issue worse. Selecting a face mask to help fix your foggy glasses is easier if you know what to look for. Try looking for these qualities in the next face mask you purchase:
A nose bridge or clamp: Is the mask equipped with a bendable metal strip for the bridge of your nose? Does this strip extend towards the top of your cheeks? Many masks designed during the COVID-19 pandemic make use of this feature, as it may redirect the motion of your exhaled breath.
Adjustable ear straps or ties: If your mask is loose-fitting, it makes sense why your breath would escape out and up onto your face. A form-fitting mask should direct your breath through your mask, not up and out.
A straight fold straight across your cheeks and nose: Some masks have been designed to dip beneath your cheekbones to form a clear nose covering. If you're wearing glasses, though, that means there's nothing between the bottom of your lenses and the top of your mask — making it quite likely that breath will escape over your cheeks and directly onto your lenses. If possible, you always want the rims of your glasses to be sitting on top of the masks' upper region, as this weight blocks the flow of air.
Enough room to cover your chin: Constantly pulling your mask down to sit beneath your chin? There's a good chance your mask isn't covering enough of your face and nose to ensure hot breath doesn't escape up and out.
The right kind of fabric: Moisture-wicking performance materials or the lightest of cotton and silk is important for those with glasses, as you don't want to be stuck with a damp mask that can't hold up to hot breath.
With the help of the Good Housekeeping Institute's Textile Director Lexie Sachs, we're spotlighting some of the best masks for those who wear glasses. These options stay tight across your nose, mouth, chin, and cheeks, and will be sure to keep your glasses as clear as possible.
Advertisement – Continue Reading Below
1 Dual-Layer Face Cover 4-Pack (With 36 Filters)
Honeywell's knit construction of the outer shell on this face mask helps to alleviate moisture that may be trapped inside, since interior filters are changed out with every use. The leather-backed nose clip also helps push any remaining moisture out towards the mask's front rather than up towards your eyes.
2 Pure Silk Adult Pleated Face Covering
Slip
nordstrom.com
$39.00
Believe it or not, silk may be one of the best mask materials for those who wear glasses, as it may repel condensation better than other materials. A study published in PLoS One found that "silk face coverings repelled droplets in spray tests as well as disposable single-use surgical masks," according to researchers. The paper adds that silk masks "can be more breathable" than options like cotton, all working to lower the chance that condensation ends up on your lenses.
3 Adult Contour Mask with Filter Pocket (3-Pack)
There's definitely a design feature in Gap's cotton mask that slopes upward to cover your nose's bridge. But unlike other masks with this feature, the rest of the top of the mask doesn't dip below your cheekbones.
4 X-Temp™ Face Masks, 10-Pack
There are elastic-cotton ear bands and an adjustable nose clip in Hanes' moisture-wicking mask, but its cotton-blend interior helps remove trapped moisture best. This mask is made with the brands' Cool Comfort™ moisture-wicking fabric, and it's flat-front makes it easy to keep glasses away from a gush of hot breath.
5 UA Sportsmask
Under Armour
underarmour.com
$30.00
One of our best picks in the fitness and lightweight category, UA's airy mask does a great job of redirecting moisture towards its polyurethane layers in the masks' interior. The mask's design naturally lifts it off your mouth and nose, helping to ensure moisture isn't immediately trapped.
6 Washable Facemask
CONICOMasks
etsy.com
$11.99
The added nose bridge (and chin strap!) on this best-selling Etsy option is good for creating a handy seal when you don a pair of glasses. Its price point means you can rotate through these during the week.
7 Tri-Fold Woven Face Mask – 2-Pack
Huckberry
huckberry.com
$18.00
Another clever use of a chin fold and an upper mask flap, which is also equipped with an adjustable nose clip. Huckberry's mask also works to sit up and away from your mouth, which helps prevent drenching the mask with moisture throughout the day.
8 VTER Cotton Face Breathing Mask
Having been continuously redesigned with customer feedback in mind, the Uniqlo team has released its updated version of its signature mask in three different sizes for a snug fit. There are three tiers of fabrics and a filter in the mask's front, all made from the brand's AIRism fabric, which wicks moisture and prevents breath from sticking around your nose and mouth.
9 M1 All-Day Anti-Microbial Face Mask (5 Pack)
Buck Mason
buckmason.com
$30.00
If you're struggling to find an option that sits firmly and doesn't ride up on your face, selecting a mask with ties can ensure a tighter fit. Buck Mason's pima cotton mask sits comfortably below your cheekbones and keeps hot breath at bay.
10 Three-Pack Face Masks
Madewell
madewell.com
$20.00
If you have a smaller head, reviewers say Madewell's compactly designed cotton face mask forms snugly to your face after its first wash. It's three-layers of protection (and added filter pocket) do a solid job of staying dry throughout the day, and those with smaller lenses will note that the nose covering feature here helps keep their glasses clear.
11 Pleated Cotton Face Mask (5-Pack)
Lucky Brand
luckybrand.com
$19.99
Since it's pleated, this tie-equipped mask can be stretched over your entire chin and right below your eyes to ensure total coverage. Wearing a pair of glasses over this mask is easy thanks to the comprehensive coverage across your entire face.
12 Sentry Mask
Rendall Co.
rendallco.com
$15.99
A lighter option for warmer climates, the Sentry mask is designed to sit firmly across an array of chins and faces, even if most masks are simply too tight across your mouth. The cotton and linen interior blend minimizes trapping hot breath, and a pliable copper nose clip can ensure moisture stays firmly below your eyewear.
13 Everyday Non Medical Masks 5 Pack
Athleta
athleta.gap.com
$30.00
Already sensitive to the pressure your ears feel while wearing glasses? This breathable mask comes with an ear-to-head support strap that relieves tension while maintaining a firm fit against your nose and mouth. The breathable interior mesh liner also comes equipped with filter pockets for additional protection.
14 KN95 Disposable Face Mask
Public Goods
publicgoods.com
$44.00
N95 masks are reserved for essential workers, but this single-use mask is built similarly to the cone-like shape of the respirator. It's equipped with a copycat airtight nose clip that prevents moisture from escaping up and outwards.
15 Face Mask for Glasses
HandmadebyGirl
etsy.com
$15.00
Another best-selling option on Etsy with over 100 5-star reviews from shoppers with bifocals, this mask is cut extremely generously to support total coverage. Tuck it firmly beneath your chin and tightly across the bridge of your nose and beneath your eye sockets with the help of its adjustable copper clip.
16 Anti-Fog Face Mask for Glasses With Filter
ArtyShopCo
etsy.com
$9.99
Equipped with a pocket for an additional carbon filter, this best-selling and top-rated Etsy mask has a very high profile — it can be worn just beneath your eyelids. Doing so can make it easy to use the embedded nose clip and the weight of your lenses to create a firm seal, pushing moist air elsewhere.
This content is created and maintained by a third party, and imported onto this page to help users provide their email addresses. You may be able to find more information about this and similar content at piano.io
Advertisement – Continue Reading Below